How does Christianity explain Ancient China?
基督教如何解释古中国?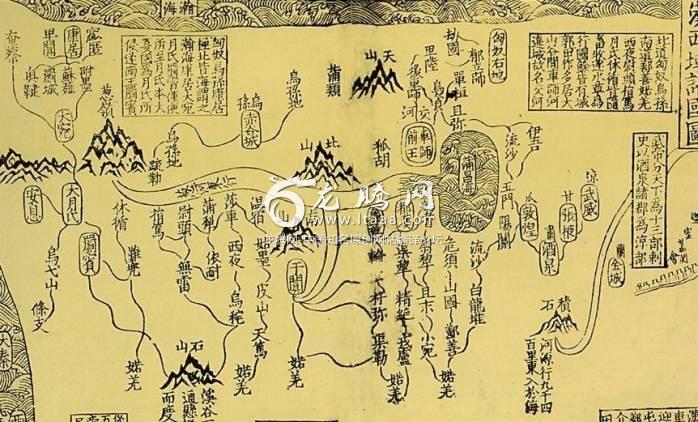 Ruoyu Liu, studied at Sun Yat-Sen University (2014)
Oh please don't do that, if you guys want to leave a good impression to the Chinese.
哦请不要那样做,如果你们想给中国人留个好印象的话。

I feel extremely insulted when hearing things like 'ancient Chinese believed Christian God', a hoax which is equally ridiculous as myth fabricated by some Chinese that Marco Polo brought the recipes of Chinese Baozi back to Italy but failed to wrap them up, which led to the creation of pizzas. The fact was that China as a civilization had already existed at least 1,500 years before Jesus was born (let's consider Xia Dynasty as a myth) and earliest Chinese mythology had nothing to do with Christianity. The same feeling goes to the vast majority of Chinese who take great pride in their culture.
当我听到什么"古代中国人信仰耶稣基督"就觉得被侮辱了。跟中国人说什么马可波罗把包子的配方带回意大利,因为不会包所以发明了披萨一样,这纯粹是无稽之谈。事实是,中国作为一个文明已经在耶稣出生前存在了至少1500年了(假设夏朝是个传说的话),中国最早的神话跟基督教一毛钱关系都没有。中国绝大多数人都有这种感觉,他们以自己的文化为傲。

May I once again quote some words from the book China Mirage, written by James Bradley?
我能再引用一下James Bradley的《中国海市蜃楼》中的几句话么?

The Chinese can not understand why they should embrace an exclusive God and his Son. The idea that the American way was superior to that of Chinese because it was based on Christianity was insulting to an ancient people who now found themselves condescended to by young missionaries from a new country......After ten years in China, Reverend Sydenstriker admitted that he had made only ten converts.
中国人不能理解为什么他们应该拥抱一位独一无二的神和他的儿子。说美国因为建立在基督教上所以美国道路就比中国的更好,这种观点是对一群古老人民的侮辱,他们突然发现竟然被一位来自新国家的年轻传教士看不起……十年之后,Sydenstriker牧师承认他只弄到十位信徒。

So could you at least entertain the ideas (or realities to be precise) just for a tiny moment that the world civilizations are diverse and all of them have their own origins? That there are billions of people who respect your belief but don't want to be one of you? That there are countries like China where people seek wisdom from their own ancestors and are able to regulate and cultivate themselves without God?
所以你能哪怕有一小会包容世界文明多种多样各自生长的的观点(更准确的说是事实)么?能包容数十亿的人尊敬你的信仰但不想成为你们一员么?能包容有类似中国的国家从他们的祖先那里寻求智慧,不考上帝帮忙也能把自己规范培养地很好么?

Chris M. Wang
It can't.
它不能。

Christianity can't even explain its own origins in a way that conforms to archaeology, history, and the top scholarship in comparative mythology. Its followers have to resort to ignorance and deception to spread their religion.
基督教连它自己的起源都解释不清,都不符合考古学,历史,以及比较神话学的学问。它的信徒必须依靠愚昧和欺骗来传播他们的信仰。

China has its own ancient traditions which far predates the advent of Christianity, and Chinese people already believe their own ancient superstitious nonsense, and definitely does not need more Iron Age Palestinian myths on top of that.
在基督教出现很久之前中国就有了自己的传说,中国人早就笃信了自己的迷信的胡说八道,绝不会再需要铁器时代的巴勒斯坦神话高高在上。

Christians, go away and wreck and destroy other cultures as you have done throughout history, if you want. Don't touch my irrational beliefs.
基督教徒,走远点去破坏其它文化,就像你们历史中一直所做的那样。我就信荒谬的信仰,你别碰。

Tim Lockwood, Where there is life, there is hope.(生命不息,希望永存。)
How does Christianity explain Ancient China?
基督教如何解释古中国?

We explain ancient China whichever way historians explain it, assuming we happen to know what the explanation is; same as we would explain the US Civil War, the Moors in Spain, the shipping trade on the Mediterranean Sea during the Roman Empire, and many other historical people and events. Duly noted there is a literalist/creationist minority of Christians who may not be able to adequately explain such things that may have occurred more than 6000 years ago, due to a flawed reading of the Bible. But Christianity as a rule has no problem acknowledging the existence of many ancient things.
历史学家怎么解释古中国我们就就怎么解释,假设我们知道什么叫解释的话。就像解释美国内战,西班牙摩尔人,罗马帝国时地中海的航运贸易,以及很多其它历史上的人和事一样。我们充分认识到基督教中有那么一小撮直译者或神造说鼓吹者怎么也无法合理解释6000(有些基督教徒相信宇宙是6000年前神一下创造出来的)多年前发生的一些事,因为他们误读了圣经。但是,基督教本身一般说来对于承认很多古代的事情是完全没问题的。

Jacob Dallas, Pastors son who became atheist on a mission trip
Oh, I know this one!
噢,我知道答案!

I'm a former Literal 6-day Creationist. I owned Ken Ham, Jason Lyle, and Kent Hovind's books. I visited the Kentucky Creation Museum on several occasions, and considered myself quite the scholar on proof that the world is 6000 years old.
我以前就是一个逐字看书的六天的神造说信徒。我有en Ham,Jason Lyle, 和 Kent Hovind的书。我参观了肯塔基州神造博物馆几次,认为我在证明世界6000岁方面可以引经据典。

How did we, as Creationists, explain away civilizations that seemed to be around during the Great Flood and to have a massive population even in time "before the world existed"? Easy…We assumed archaeologists were frauds and liars.
作为神造说信徒,我们怎么解释大洪水时很多文明就在周围,甚至在"世界被创造之前"就已经有大量人口存在?很简单……我们假定这些考古学家都是骗子,都在说谎。

Seriously! Many, many times when faced with damning proof to my worldview I just said, "Hey! These people are God-hating evolutionists! They're just making it up."
我说的是真的!很多很多次当我的世界观面临该死的证据挑战时我就说,"嘿,这些家伙就是仇恨上帝的反动分子!他们全都是胡编乱造的"。

Simple as that…People hold on tightly to their beliefs despite overwhelming evidence.
如此简单……就算有无数的证据,人们还是会抓紧自己的信仰。

Dante Carangelo
Apparently, according to the Bible, all the people in the world gathered in one location thousands of years ago to build the Tower of Babel, which would reach to Heaven so they would be able to overthrow God. In response, God twisted their tongues into different languages, which hindered their ability to communicate, and then cast them to different corners of the Earth, thus explaining its variety of different cultures the Christians didn't understand, including those of ancient China.
很明显,根据圣经,全世界的人在几千年之前都聚集到一起要建一座巴别塔,能够通到天堂,也因此他们有可能会推翻上帝。作为回应,上帝把人类的语调搞乱,让他们有了不同的语言,这样他们就不能方便交流,然后把他们丢到地球不同的角落。不同地方的人用基督教徒不懂的语言解释他们不同的文化,包括古中国。

Other than that and the Three Kings of Orient, my best guess would be "It doesn't."
除了这个以及东方三王,我猜答案最可能是"它不能"。

Carlo Sirna, Software Engineer (1997-present)
Christianity doesnt have any problem with ancient China
基督教对于古中国没有任何问题

The insane idea that the world is less than 5000 years old is not endorsed by any true Christian. It is an extremist idea born in USA and believed only by some americans (an alarming percentage of the americans I must say)
说世界不足5000年历史的疯狂观点不被任何真正的基督徒支持。这个极端观点产生于美国也只被一些美国人信奉(但我必须说比例还真吓人)。

Not even the Pope endorses this retrograde interpretation of the Bible:
连教皇本人也不认同这个对于圣经的倒退解读:

Pope Francis declares evolution and Big Bang theory are real and God is not a magician with a magic wand
教皇宣布进化论和宇宙大爆炸是真的,上帝也不是"一个手持魔法棒的魔术师"。

Emanuel Leung, lived in China (2011-2012)
There was a christian chinese filmmaker called Yuan Zhiming who actually tried to answer this question… literally.
以前有一个中国的基督徒电影制作者叫袁志明(音译),他还真的曾经试图回答这个问题……毫不夸张地。

The idea was that the Ancient Chinese, the Shang and the Zhou dynasties, when they referred to "tian" (heaven), Yuan and some Chinese christians said that they were actually referring to Yahweh in the Judeo-Christian parlance. Also, some chinese characters like the character for "yi" or righteousness, is formed by the word "lamb" above the word "I/me". This supposedly prefaces Jesus Christ, the lamb of God. Yuan Zhiming also made a tv series about ancient chinese history from a christian perspective. Other than what I already mentioned, the only part I remember now off the top of my head is that the Christian "heritage" of China stopped when Qin Shihuang used the word "huang" (august, divine) to refer to himself. From then on, China was supposedly no longer worshipping Yahweh…
他的观点是,古中国的人,在商代和周代,当人们说到天圆时,圆其实是指"耶和华",用犹太-基督徒的语调。还有,一些中国字,比如正义的"义(義)",是由"羊"和"我"组成的,这被猜测为耶稣的引语,上帝的羔羊。袁志明还拍了一部电视连续剧,从基督教的角度解读中国的历史。除了我刚才说到的,我脑袋里现在能想到的就是,基督教的"继承"在秦始皇使用"皇"这个字来叫自己时结束了。从那时起,中国人不再信仰耶和华。

I am Christian myself, and I am not willing to say 100% that these beliefs are false, but the likelihood of them being true cannot be proven and as the burden of proof is on Yuan Zhiming, so far the answer is no.
我自己是一个基督徒,我也不愿意说这些东西百分之百是错的,证明的重担压在袁志明身上,但这些到目前为止完全无法被证实。

Unfortunately for Yuan, he had to admit to an extramarital affair and was accused of rape and therefore had to step down from his ministry position. Oh sweet Jesus…. :D
对于袁志明,很不幸的,他必须承认婚外恋的绯闻,还被控告强奸,最后不得不从政府职位上走下来。噢甜蜜的耶稣……哈哈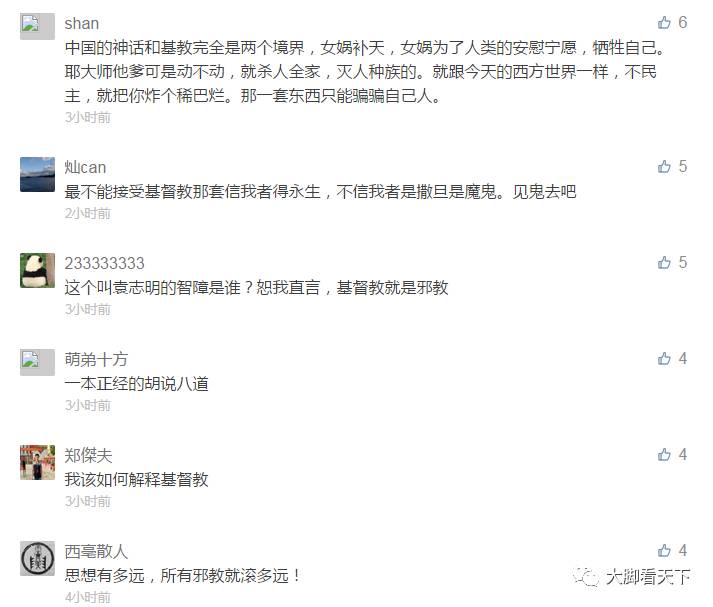 转自:国外网友看中国